This article may contain affiliate links. For details, visit our Affiliate Disclosure page. As an Amazon Associate I earn from qualifying purchases.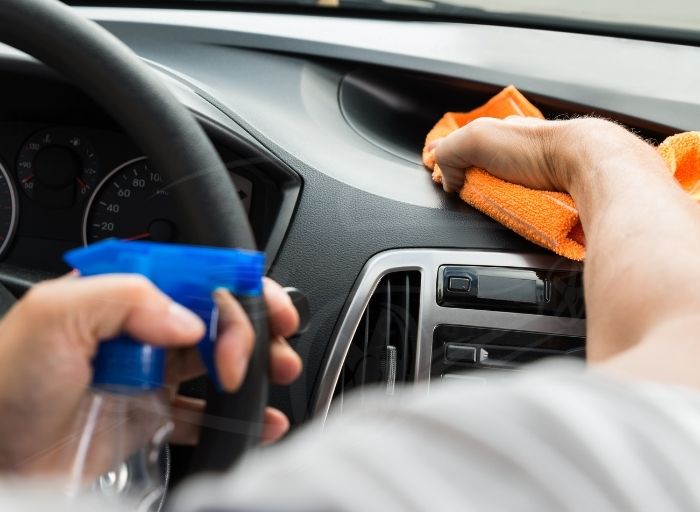 Cleaning the inside of your car tends to be neglected in the midst of other, more pressing chores. But with all the crumbs and dust that get into your dashboard, it's not surprising that once you get in for a drive, you might jump out again because of allergies or simply driving while half-blind.
In this blog, I'll show you how to choose the best dashboard cleaner for your car and the list of 8 favorite products on the market now.
Buyer's Guide to Choose the Right Dashboard Cleaner
When browsing around for a dashboard cleaner, there are some criteria you should keep in mind:
#1 Ingredients
The very first thing you'll want to check on the label is the ingredients. If you're buying a cleaner for your dash board, chances are it will come into contact with all kinds of surfaces in your car, including your gear shift and cleaning steering wheel. Be wary of any cleaners that might eat away your car's material or leave behind streaks.
Try to avoid products with ammonia, acetone, alcohol, or any other ingredient that would damage the material of your car.
#2 Strength
The next thing you should check is the strength. You might think that a product with more ammonia is better, but this isn't entirely true. Too much cleaning power can end up damaging your dashboard if you don't know how to use it right. Also, if the product is too strong, it might take more than one go to clean off stubborn stains or dirt.
#3 pH Level
The pH level of the cleaner is also important because it determines how acidic or alkaline the product would be. Too acidic and the product might eat away at your dashboard, and too alkaline and its residue might leave behind streaks.
Also, if the pH level is too high, it might damage your skin upon contact. Most cleaners range from 4 to 8 pH.
#4 UV Protection
If you want to keep the inside of your car looking good for a longer time, then you should go for UV protection. This is because UV rays from the sun tend to fade your car's color and material. Look for products that contain UV protection.
#5 Product Performance
All of the ingredients and strength and pH level of a product isn't worth much if it doesn't work well on your vehicle. A good dashboard cleaner should be able to clean off dirt, grime, and any other stains on your console.
How to Use the Best Dashboard Cleaner
Once you've decided on a product that will suit your needs, here are some things you should know about using it. While most cleaner bottles say "spray and wipe" on them, you should use a microfiber cloth instead for better results. For example, if you insist on using a spray bottle directly onto the dashboard, the force of the spray will make the dirt spread farther.
The best way to use a cleaner is to pour some product on a microfiber cloth and wipe it on the dashboard. If you have stubborn stains, spray some of your cleaners on them and let them sit for 5 minutes before wiping them off with your clean cloth. This will give the product enough time to do its thing.
Tips For Cleaning Dashboard
Here are some general tips that you can use with any dashboard cleaner to ensure that your car's inside is clean and fresh at all times.
Check the ingredients first before buying a dashboard product.
Use the right microfiber cloth for wiping your dashboard. Microfiber doesn't leave behind any streaks, making it great for cleaning. Also, if the cloth is lint-free, you can be sure that it won't stain your dashboard either.
The best time to clean the dashboard is when the car has been parked for a while. If you're in a rush, you can do it while you're parked at the side of the road.
The best way to clean your dashboard is to spray some cleaner on it and wipe it off with a microfiber cloth. You can also use a brush or sponge if necessary, but try not to get too much cleaner on your car's material.
If the dashboard is too dirty, don't wipe it immediately. What you can do instead is to let your cleaner sit for around 5 minutes so the dirt and stains settle down before wiping them off.
Another tip is to wear latex or rubber gloves while cleaning. This will protect your hands from the chemicals of the cleaner. When you're done, simply dispose of your gloves by throwing them on a bag full of used ones.
Top 7+ Best Dashboard Cleaner For Cars 2022
#1 Meguiar's Ultimate Interior Cleaner
This is one of the best products on the market right now. It's biodegradable so you can be sure that it won't harm your car. It also has UV protection so it will help protect the color of your car.
This item can be used on many surfaces such as leather, vinyl, and plastic. It contains non-slip technology so you can be sure that it won't leave behind streaks. What's great about Meguiar's is that you can use it on your dashboard and other surfaces without fear of damage if you follow the instructions on the label.
This spray does leave a bit of smell when sprayed, so if you're sensitive to smell, leave the car after cleaning.
To ensure that there is no damage to your dashboard or vinyl, you'll have to spray the clean interior on a microfiber cloth and wipe off the dirt. The bottle itself can hold around 15 ounces of product, so you should have no problems cleaning up any spills.
Pros
It's biodegradable
UV protection
Can be used on multi-surfaces
Doesn't leave behind streaks
Cons
#2 CarGuys Super Cleaner
This is another great product that can be used on any dashboard in your car. This cleaner is great because it won't leave behind stains and streaks. CarGuys has improved the formula to upgrade this product performance that can meet everybody's needs.
This product got a vast number of positive feedbacks on Amazon for its cleaning efficiency.
The packaging is straightforward and simple. It makes use of an ergonomic sprayer that helps avoid leaks and drips. One plus point for this spray is that it leaves no smell behind.
However, this cleaner has a premium price and it doesn't come with UV protection, just a pure cleaner.
Pros
Great cleaning efficiency
No smell
Premium quality
Cons
A bit pricey
No UV protection
#3 Chemical Guys Total Interior Cleaner & Protectant
Chemical Guys brand is no strange name in the detailing field. This cleaner is one of their new product on the market. The sprayer can be removed to make it more convenient to spray your product on the cloth.
It can be applied not only on dashboards but also on the seats, floors, carpets, leather, and more.
What makes this product stand out is its no-streak formula. It makes use of a microfiber cloth to give you a deep cleaning on your car's dashboard. This helps keep the dashboard looking great for a long time.
This product is non-toxic, which means it doesn't contain any harmful chemicals that might damage your car. It also has UV protection so it will protect your car's interior from fading.
The scent is mild and pleasant, which makes Chemical Guys Total Interior Cleaner & Protectant a good choice for women who don't like strong scents.
Some customers complained that it doesn't work well on the glass as it leaves a haze.
Pros
UV protection
Easily removed streaks
Great smell once dry
Good value for money
Deeply clean with microfiber cloths.
Cons
Doesn't work well on glasses
#4 TriNova Premium Dashboard Cleaner
This item is very easy to use as there's no sprayer needed. Instead of spraying directly at your dashboard, you can always spray the cleaner on a microfiber cloth and wipe off the dirt or stains. This will keep your dashboard looking great for a long time. It's a kind of spray and wipe application, so very easy to use.
The outstanding feature of this item is that it can repel dust effectively. The micro-encapsulated polymers are activated by water. Once it's activated, it starts to repel dirt. It will also help protect the dashboard from water spots and oil so your dashboard will look great for a long time.
This product can be used on glass, plastic, rubber, leather, vinyl, chrome plastics and so on. However, avoid using it on glasses.
Pros
Repels dust
Non-toxic
UV protection
Can use on the dashboard and other parts of your car.
Cons
#5 Griot's Garage Interior Cleaner
This interior cleaner is perfect for automotive detailing products. It is safe to use on all interior surfaces like vinyl, leather, plastic, and glass. Thus, it's perfect for the dashboard as well.
What's great about this product is its ability to fight tough stains and dust—so your dashboard will stay clean and free of any stains for a long time.
The smell is great and the sprayer works well. It's very easy to use since you just spray it on your microfiber cloth and wipe off the dirt. There's no need to worry about getting too much cleaner on your dashboard as the microfiber cloth will prevent this from happening.
Compared to others, its price is a bit higher.
Pros
Non-toxic
Easy to use
Subtle scent
No streaks or stains left behind when used correctly
Cons
#6 KevianClean Interior Defence Dashboard Cleaner
This is like a premium dashboard cleaner as it is amazing.
The formula is one of the best as it's non-toxic and effective in removing stubborn stains and dirt on your dashboard. This product focuses on UV protection to protect the interior from fading and sun damage.
It's a great cleaner as it dries quickly and leaves no stain or streak behind. It removes black marks, dust, dirt, and grime from the dashboard leaving your dash looking almost like new. This cleaner is different from others as it leaves a matte appearance instead of a gloss finish.
Another great thing about this item is that it contains carnauba wax that will provide a soft shine and protection against scratches. The product contains no alcohol, no acetone, and no ammonia—which means it is non-toxic.
It's easy to use. Spray the cleaner on your microfiber cloth and wipe off dirt or stains. Since there is no alcohol in this cleaner, it is safe for all surfaces including plastic, glass, rubber, vinyl, leather and more.
Some complained that it doesn't work well on leather. So you'd better test it before applying.
Pros
Non-toxic
Contain carnauba wax
UV protection
Leaves a matte finish on the dashboard
Cons
Doesn't work well on leather
High price
#7 SHINE ARMOR Car Interior Cleaner
The last product I want to mention is from the Shine Armor brand, and this is a premium product as well. One of the reasons why I chose this item is that it is created using nanotechnology. This means that it has a unique technology that does not use harmful chemicals present in other products and it can repel dust effectively.
Another great thing about this cleaner is that it can be applied to any surface including plastic, glass, rubber, vinyl, leather, and more. Also, this cleaner will protect your interior from reducing due to UV damage or fading.
This item can literally clean every corner of the car from dashboard, headliner to carpet.
The only minus point for this product is its price. Its price is almost doubled that of others.
Pros
Repels dust effectively
Unique nano-technology
Safe to use on all interior surfaces
Great UV protection
Cons
Homemade Dashboard Cleaner For Cars
As I said before, if you don't like the smell of the commercial product or you want to save money, here are some homemade recipes (or methods) that can be used to clean your car's dashboard.
To clean your car's dashboard, you can use a mixture of water and soap. This solution is non-toxic and will also help keep your vehicle's seats clean.
Baking soda is a great option for cleaning your car's dashboard. This material can be easily purchased from groceries, drugstores, and convenience stores. All you have to do is sprinkle a little baking soda on a wet sponge or cloth and scrub your dashboard gently. The dirt will come off very easily.
Vinegar is another great option if you want to make a homemade dash cleaner for cars. Mix vinegar with water and put the solution in a spray bottle.
Homemade cleaners are usually safe to use but they aren't very strong.
Final Words
I hope you find what you're looking for. From the list above, we can see that there are many products on the market, and choosing one can be tough. Of course, I'm partial in love with the products I've reviewed here.
Remember, don't cheap out on these products as they'll help you maintain your car's interior and will save you money in the long run. The best part about these products is that they can be easily found at your local stores or online.