This article may contain affiliate links. For details, visit our Affiliate Disclosure page. As an Amazon Associate I earn from qualifying purchases.
Last Updated on 2 months by Ollie Barker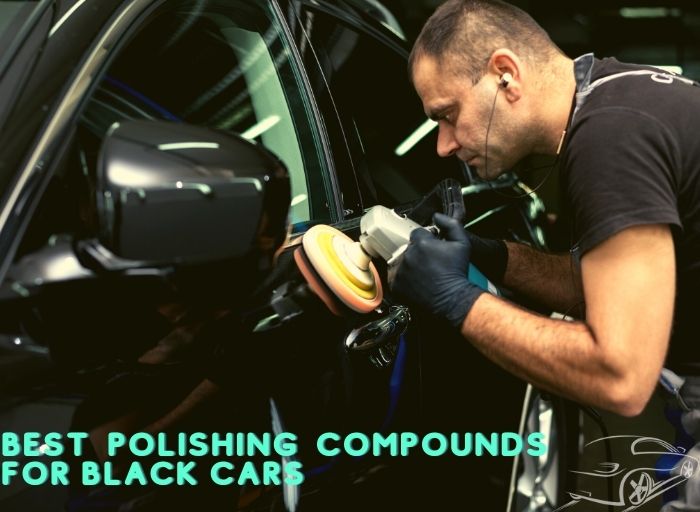 Polishing your automobile is a job that many people take very seriously and for good reason. The right compound can make all the difference between a dull paint job and a shiny one. It's easy to get carried away with expensive and unique polishes; however, when it comes to cars, the most important thing is common sense. In this blog, I'll present you with a complete guide to choose the best polishing compounds for black cars.
If you're looking for a quick winner:
I recommend the Meguiars Ultimate Compound Kit because it does a good job and it's also affordable. And, if you're confident in your detailing skills, then a cut of Sonax Profiline CutMax would be a great option too.
But, if you've got the time, don't skip other great products on the list too. You might find a better option that suits your needs.
Here is a quick summary table:
| Name | Product Image | Editor's Rating | Price |
| --- | --- | --- | --- |
| Meguiars Ultimate Compound Kit | | 4.5/5.00 | |
| Sonax Profiline CutMax | | 4.8/5.00 | |
| 3D ONE Compound | | 4.5/5.00 | |
| Meguiars M105 | | 4.7/5.00 | |
| Black Color Magic Car Polish by Turtle Wax | | 4.3/5.00 | |
What Is a Good Auto Polish Compound for Black Cars?
A good polish can serve both the purpose of cleaning and polishing your black car. It should be applied on all sides of the car, including doors, body panels, windows, and wheel rims. The application of a good compound will remove dirt and grime from the surface of your car.
Polishing is done to brighten paint that has lost its sheen due to wear & tear or environmental pollutants. You will need a buffing machine to do this task; washing your vehicle alone is not enough to restore its shine.
So how to choose a good polish compound for black cars?
The first thing you need to do is check the label of the polish. Make sure there are no warnings about using it on black paint. Apart from that, it needs to be able to remove dirt, grime, and light scratches.
Another thing you should look for is a polish that will make your black car shine. If you want the paint on your black car to look brand new, make sure to choose a polish with a high-shining effect.
A good compound is not the most expensive one, but the one which gives the best results. It should be easy to use and provide good value for money.
What Does a Car Polish Do to Your Car's Paint Job?
The purpose of a car polish is to clean and shine the car's paint job. The compound applied is gradually buffed into the paint, removing dirt and grime from its surface. The more you rub the compound into the paint, the better it cleans and shines.
So what does a good polishing compound for black cars do?
Cleansing: A good polish will remove any surface scratches on your car's body and give it a smooth texture.
Shining: A compound will remove oxidation and restore the paint's shine.
Protection: A good polishing compound should have UV filters in it, which protect your car's surface from harmful sun rays.
How to Use a Polish Kit?
A versatile compound kit is an excellent choice for people who want to use the polish themselves. The kit contains a variety of different polishes that you can apply to your black car's paint.
The polishing process takes about 12 hours. It depends on how much time you have and the speed of your buffing machine, but it is a lot faster than washing your car by hand or using products from the grocery store.
Below are the products I recommend for easy finishing and restoring of black cars. They have all the features that you should look for when buying a car polish kit.
What to Take into Account When Purchasing Polishing Compounds?
To assist you take action as soon as necessary and save money on professional aid, applying polishing compounds to your black car is a wise move.
But just thinking won't cut it. You need to know what a polishing compound is and whether it will help or hurt your car.
Such products are abundant on the market, making it challenging to distinguish one particular product from another. This is why I'm presenting you with a list of important factors to take into account before making a purchase.
# Safety for your car
You would rather have a product that cleans contaminants off the paint surface of your car than one that introduces more.
Thus, no matter how aggressive you are with the application, opt for a product that does not ruin your paint work. Avoid items that contain harsh chemicals, such as silicone.
# No additives
Waxing compounds frequently contain fillers, which fill up scratches to make them less noticeable. However, they quickly wash away, leaving the marks visible and necessitating a new application.
Therefore, it is preferable to choose a product devoid of fillers.
# Flexibility
The ideal polishing compound needs to be adaptable. It should be able to treat oxidation, small scratches, wet stains, and more in addition to removing swirl marks.
Such a product will provide you good value for your money if you use it.
# Long-lasting defense
No one enjoys occasionally polishing their car. Therefore, it is preferable to search for a device that provides long-lasting security. Select a product that will offer defense that can endure for at least a month or two.
Anything less than this is a waste of money in terms of a product.
# Simple to apply and remove
A product should also be simple to use. Application and removal should both be easy to complete, especially for a novice. Leave a product if the directions are unclear.
A product is worthless to you if you can't use it with ease, regardless of how amazing it is.
Top 5 Best Polishing Compounds for Black Cars 2022 Review
#1 Meguiars Ultimate Compound Kit
Best polishing compounds for black cars can't miss a name from Meguiars. The Meguiars Ultimate Compound Kit contains a large number of polishes for different purposes. It can be used for removing swirls and other defects from the paint, as well as for giving it a deep shine.
This kit can be used by anyone, thanks to its simple and straightforward instructions. I strongly recommend this product because it is affordable and so easy to use that even someone without any experience can do it! It comes with a detailed instruction book that will help you understand the correct way of using this compound.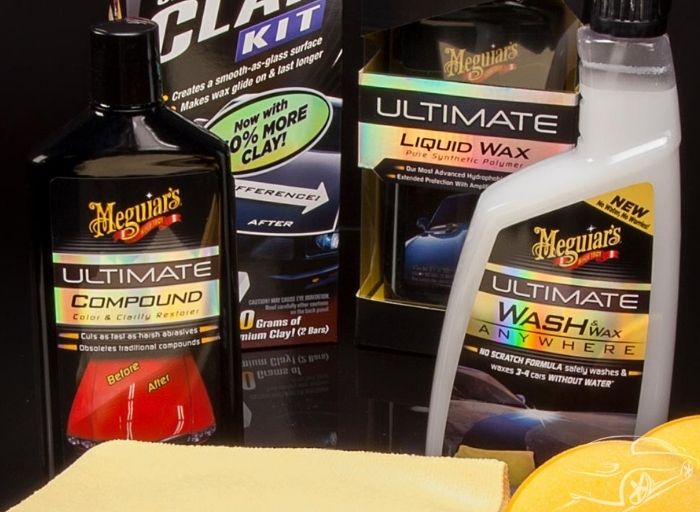 However, some users said that the instruction manual that came with the kit was missing some important information such as the exact procedures to use the different polishes. This is only natural since perhaps it is only designed for professional reviews or technicians.
The Meguiar's Ultimate Compound Kit comes in a jar with a screw-on lid. You will need to wash your car with soap and water, then dry it thoroughly and apply some wax if you want to protect your paint job.
Pros:
Very flexible: can be used by many people, regardless of their experience level
Contains so many different polishes that it can be used for so many different purposes
Can be applied to many materials such as metals, glass, and plastic.
Cons:
Some complained about unclear instructions
> What I like: Meguiar's Ultimate Compound Kit is an affordable option and easy to use!
#2 Sonax Profiline CutMax
This is another best polishing compound for black cars. This is a very strong compound as it works faster than most compounds. It can be used to remove scratches, swirl marks, and oxidation. It comes as foam, which makes it easier to control the amount of compound applied.
As it is a stronger compound, you will need to use it very carefully when applying it to your car's paint. This product can remove a layer of car coat so it's perfect for worse cases. You should take the time to read the instructions carefully and wear proper protection for your skin and eyes, such as gloves and goggles.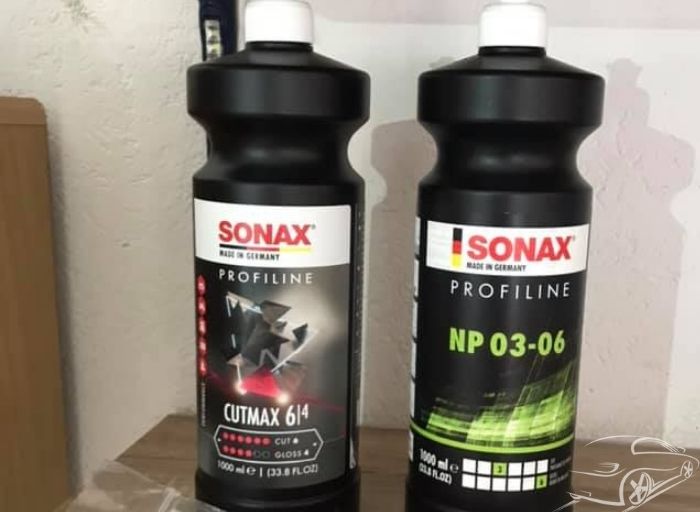 Another good point for this is that the residue can be easily wiped off in high humid places.
Sonax Profiline Max is preferred by car detailing experts, it works so well on black vehicles. So if you're new, I don't recommend you use this.
Pros:
A very strong and effective compound
Can be used to remove swirls and scratches
Comes as foam, which makes it easier to use
The residue is easy to remove
Cons:
May damage the car's paint if not used correctly
More expensive than other compounds
Not recommended for those new at detailing cars
> What I like: Sonax Profiline CutMax is a strong compound, which is perfect for worse scratches to quicker process.
#3 3D ONE Compound
One of the best polishing compounds for black cars is from 3D. It is a German brand that makes some of the best compounds in the world. This particular one can remove fine surface scratches and oxidation on paint jobs. Compared to others, it works relatively faster and can provide a good shine on the paint.
The cut level of this product is 10, meaning it's great for removing swirl marks and scratches. It's also very easy to use thanks to its foam application.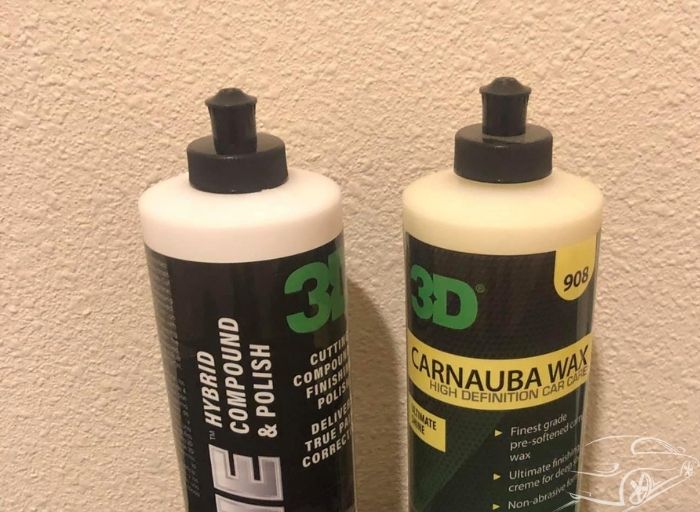 One minus point for 3D ONE Compound is that it can lose its shine over time, probably because of the wax present in it. However, this depends on how you use it. If you choose to wash your vehicle before this compound dries out, then you shouldn't have any problems with its shine.
Pros:
Foam applied which makes it easy to control the amount of compound applied to your car's paint
Key ingredients are made from high-quality German materials
Can remove swirls and scratches on the paint even if they are not too bad
It can be used for different kinds of paints such as clear coats and glossy paints
Cons:
Not recommended for black cars that are new or have never been polished before
> What I like: 3D ONE Compound is a great option to remove fine scratches!
#4 Meguiars M105
Another name from Meguiar's family is M105. It's a high-end car polish that has a lot of quality and nice features. The only negative point is its price, but it's worth every penny.
Because of the high amount of car washing foam, it's very durable for tough jobs such as sanding, buffing, and polishing. M105 does not contain any alcohol, so you will not have any problems with drying time or staining your car's paint. It also contains UV protection which makes it an excellent product for protecting your vehicle from sunlight damage.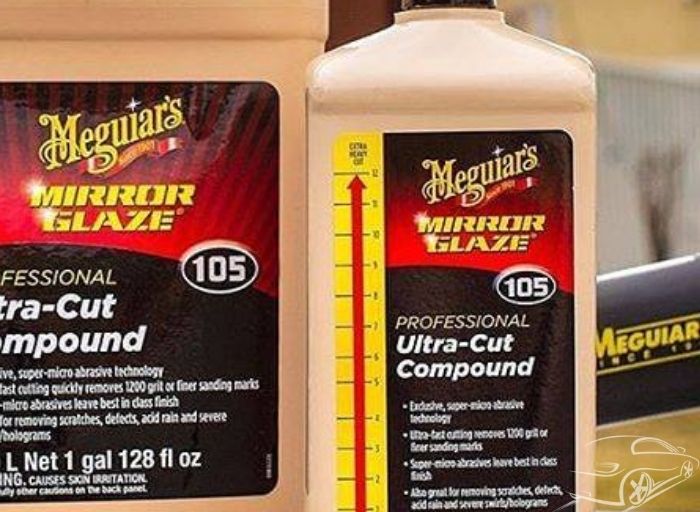 I suggest that you use M105 with a polishing machine to get an excellent result. But if you don't want to use a machine, then you can use it by hand. It works well on all paints, even those with clear coats.
Note: The residue can be hard to remove in warm conditions.
Pros:
Not harmful to the environment (it is biodegradable)
Can remove swirl marks and scratches on your car's paint even if they are very deep.
Does not contain any alcohol so it won't dry up or stain your paint job after application.
A high amount of car washing foam ensures that it lasts for a long time.
Cons:
Expensive
The residue can be hard to remove
> What I like: A premium polish option that is worth every penny you should have without thinking! Of course, if your budget is allowed!
#5 Black Color Magic Car Polish by Turtle Wax
This is a polish produced by Turtle Wax. This is a high-quality polish and is very inexpensive as well.
This polish is for black cars that need to retrieve their original dark color. It is perfect to use if you want to wax your car. This product can remove scratches and swirl marks from the paint without affecting the overall look of the car's paint.
It contains UV protection which makes it an excellent product as well. It even protects the car's interior from UV rays and sun damage.
The only negative point for this polish is that it can sometimes leave a haze on your paint surface, especially when being used on white cars such as new models or older ones that have been cleaned.
You will be amazed that in just 15 minutes, your car's paint will look as good as new! This product works on all paints without losing its shine.
However, you have to be careful using this product because it can leave some marks on your car's paint if you don't apply enough pressure when applying it.
Pros:
Very economical
It's a quick and easy way to remove scratches from your car's paint
It contains UV protection that keeps the car's interior safe from UV rays and sun damage
Cons:
No instruction on how to use it properly
You have to be careful when using it
> What I like: Quick and budget option to get back shiny look for your car!
FAQs
#1 Can You Apply Compound by Hand?
Yes, you can. But for best results, use a machine. Compounding a car by hand isn't difficult, but it's not easy either.
You must be very careful when using a compound on your car's paint. Improper use can cause damage to it.
#2 Is There a Special Polish for Black Cars?
Yes, there are! Black cars get very sensitive when it comes to polishing. A lot of products have UV protection built into them. So look for car polishes that contain this as well when buying a product for your black car.
Most importantly, always check the label of the product you want to buy.
#3 How to Choose The Right Polishing Compound for Your Car?
As a rule, always look for the cut level of the product. The higher the cut level, the harsher it is on your car's paint. Lower levels don't damage your car as much but don't provide enough power to remove scratches and swirl marks.
Always read reviews and look at pictures before choosing a compound for your car's paint.
Final Words
I hope that this article has helped you in choosing the best polishing compounds for black cars. Always read reviews and look at pictures before choosing a compound for your car's paint. I myself prefer Meguiars Ultimate Compound Kit as it does a great job at an affordable price. If you're confident in your detailing skills, then Sonax Profiline CutMax would be a great choice.
To get the best out of a polishing job, never rush it. Be sure that the compound doesn't dry before using another coat on your car's paint and take your time to remove all the residue on it without scratching it with anything rough.