This article may contain affiliate links. For details, visit our Affiliate Disclosure page. As an Amazon Associate I earn from qualifying purchases.
Last Updated on 2 years by Ollie Barker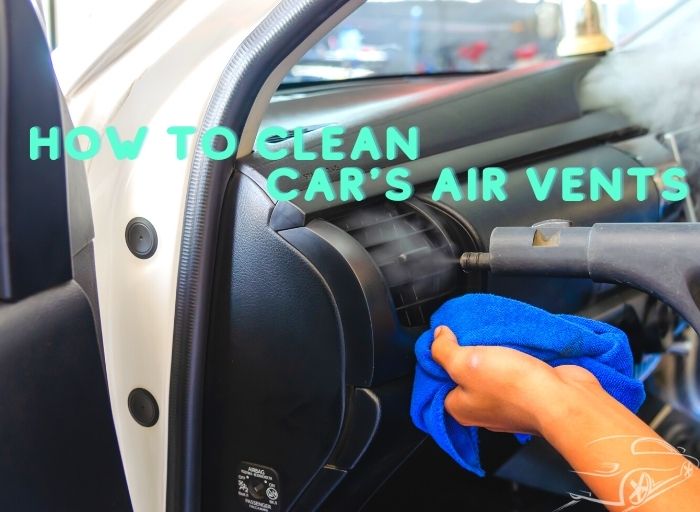 There is nothing worse than breathing in some pretty nasty air vents when you are traveling. These vents can get clogged with dust, dirt, pollen, and other particles that get stuck in them and make your car infested. In this blog, I will show you how to clean air vents in a car.
The best way to clean these air vents is to use a vacuum cleaner with a soft brush attached to it. This helps dislodge unwanted debris from the opening and will keep these ventilation systems fresh for longer without further damage.
How an Air Ventilation System Works
It is important to understand how air vents work in your car. Air enters through the vents and passes into the passenger compartment where it is filtered before it reaches the rear of your car.
The cleaner and fresher the air entering your vehicle, the better you will feel about it. You will not suffer from allergies or other respiratory problems if you keep the air fresh. This is why you should take care of your ventilation system on a regular basis to get rid of unwanted particles that can stick in the opening and make them clog.
Why It's Important To Clean Car Air Vents?
Many people neglect these areas when it comes to car cleaning. However, keeping them clean is important as it contributes to keeping your car fresh and new. If you neglect them, they will get clogged with debris that can lead to mold and even airborne diseases.
Check out: How to remove algae and mold from your car effectively!
You will also find that the air from the vents is not as fresh and clean as you would like it to be. It may even smell like mildew or have a strange odor to it. This is because these pollutants can stain the filter causing you to have an unpleasant odor when using your vents.
Benefits of Cleaning Your Car Air Vents
Cleaning air vents on a regular basis will help you increase the freshness of the air coming from your car. This will benefit you in several ways that are extremely beneficial to your health, including:
You will not suffer from allergy or respiratory problems when you keep these areas clean.
You will not have to rely on air fresheners to deodorize the air that comes out of your car.
Your vents can hold the same amount of pollutants as they did when they were brand new. This makes them more efficient in transporting oxygen and keeping you fresh.
You will have a cleaner-smelling car when you clean the air vents.
So, the benefits of cleaning your car's air vents are excellent. They will remove that musty odor from the air and make it smell fresher and cleaner. This is especially beneficial if you have allergies or other respiratory problems due to the increasing number of diseases that are being spread through airborne particles.
Best Ways to Clean Air Vents in Car
#1 Using a Vacuum Cleaner
This is by far the most popular way to clean air vents in a car on a regular basis. It is efficient in removing all types of unwanted dust, pollen, and other particles from the ventilation system. It is also an excellent way of keeping your car fresh because it reduces mold and mildew that can grow inside.
 Read more: Can you clean seat belts by pressure washer?!
This is by far the most efficient way of keeping your air vents clean. You simply attach it to the opening and let it do all the work for you. It will remove all particles that are stuck in them and ensure no debris can make it in there again.
This is a great option for those that do not want to spend time cleaning their air vents manually.
#2 Use Baking Soda or Dishwashing Liquid
These are great cleaners that help break down all types of dirt and grime from the air vent openings. They work by absorbing all the unwanted particles and liquefy them enabling you to remove them easily.
These cleaning agents can be used directly after vacuuming – sprinkle a small amount around the opening and vacuum it off. You will find that the air is much cleaner after using this method.
#3 Use an Air Vent Brush
Another best way to clean air vents in cars is with an air vent brush that has a soft brush attached to it. The brush bristles help dislodge all types of dirt and dust that are stuck in the air vents. The vents will stay cleaner for longer without the need for a professional cleaning service.
This is a great option for those that do not want to spend money on automatic car vacuum cleaners. Most cars have a vent brush already installed in them but you can always purchase one if yours does not have one. These brushes are easy to install and use and will keep your car fresh when it comes to air ventilation systems.
#4 Use Compressed Air Spray
The compressed air spray is an excellent way of cleaning car vents. It helps remove all kinds of dirt, dust, and grime that can build up over time. You simply need to hold the can in your hand and spray around the opening until it is clean.
This is a great option for those that do not want to spend a lot of time cleaning their air vents manually. Using this method will save you time and will make it easier to clean them for a longer period of time without clogging up again.
How To Remove Bad Odor From Car Vents?
What are the best ways to remove bad odor from car vents in the car? There are many ways to remove this smell and you do not have to spend a lot of money on these products. You can even make your own homemade cleaning solution that can be applied directly to the vents. The odor will be removed with ease.
Another great option is to replace the cabin air filter. This is a relatively simple task that ensures your car smells fresh and clean. It will also remove any musty odor that may be left behind by the previous occupant.
Find out: How to keep your wheel wells clean after cleaning longer!
Cleaning your air vents is important because of the benefits provided to you. You should do this at least once a year to ensure it is clean and free of pollutants, especially when you can easily do it on your own. You will love how much fresher the air feels inside your vehicle when you use these products.
Conclusion
To conclude, cleaning your car's air vents is an easy and inexpensive process. It only takes a bit of time to do, unless you are cleaning them with the baking soda and vinegar solution which takes a little longer but is still fairly simple.