This article may contain affiliate links. For details, visit our Affiliate Disclosure page. As an Amazon Associate I earn from qualifying purchases.
Last Updated on 4 months by Ollie Barker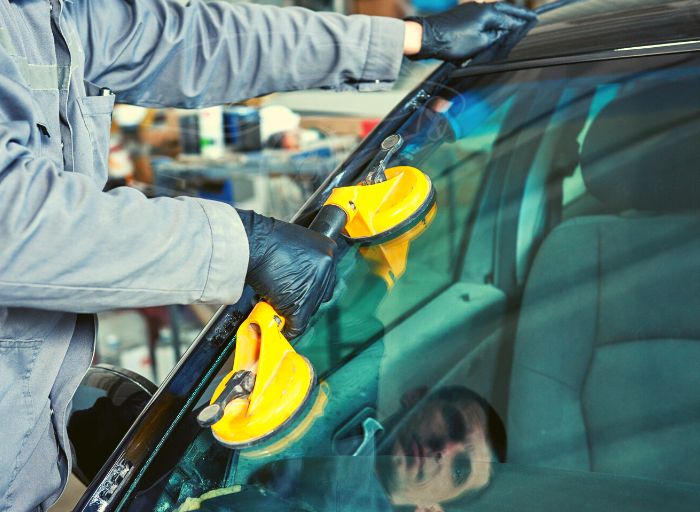 In recent years, leaving tips for service providers, door-to-door agents, or delivery personnel symbolize gratitude and respect.
When using various services, gratuity is not always required. However, it demonstrates politeness, kindness, and a respectful attitude toward employees.
So the subject of what services to tip for is one that many people frequently pose. The windshield is one of the issues that consumers in the auto repair industry frequently inquire about.
Do you tip windshield installers? How much of a tip is appropriate? Let's read this article to learn more specifics.
What Do Installers of Windshields Do?
Should you suffer a crack or other damage that cannot be repaired, windshield installers will replace or repair your damaged windshield. The windshield installers will remove your old windshield and all of its remnants before installing the new windshield of your choice. Usually, you or your insurance provider hires them to finish the project.
Do You Tip Windshield Installers?
Tipping a windshield worker is not required and is not even common. However, given their small pay, you might feel justified in doing so, particularly if they came to you for a mobile appointment.
Do Safelite Auto Glass Employees Get Tips?
Being one of the largest vehicle glass businesses in the US, Safelite has over 720 facilities across all 50 states.
Private and business clients and insurance companies offer a wide range of auto glass services, such as repair, replacement, and calibration.
Since windshield replacement is typically covered by insurance, many automobile owners are unsure of whether to leave a tip or not. The answer is that you can decide. If you believe the technician merits a tip for his superb work, provide one.
Thus, am I supposed to tip the windshield installer? It's all up to you.
Considerations Before Tipping
A number of variables will influence the choice of tipping a windshield installer.
Customer satisfaction
You might be tempted to tip the professional for good customer service if your installer was cordial and you had a positive experience.
The Cost of a Replacement Windshield
The typical cost of replacing a windshield is about $200-$400, but a number of variables might alter the cost, including having a backup camera or lane-assist equipment. A tip can be worth considering given the high cost of the good and its service.
Level of Work
Your decision to tip the windshield technician may be influenced by whether you think they did a good job. A gratuity will be a thoughtful expression of gratitude if the installer takes good care of your car throughout the repair.
Time
Another aspect can be how long the replacement takes. You might believe that a flat sum would be plenty as a tip if the service was completed quickly. However, the act of leaving a tip would demonstrate gratitude for the technician's dedication in the case of longer replacements that encounter difficulties or failures.
How Do I Tip (With Cash or a Card)?
We advise leaving cash tips whenever possible. Unfortunately, some dishonest employers will withhold bonuses if you pay with a credit card.
The best approach to make sure it gets to the technician is to pay with cash.
Additionally, if the tip is paid with a credit card, the technician may run into issues since they will need to let HR or payroll know that the tip is part of the cost the customer has paid.
When To Not Tip
Note that the Safelite technicians won't likely be anticipating a gratuity.
According to our study, it's not customary to tip a Safelite technician, so it's doubtful that your lack of a gratuity will displease the technician.
When we previously considered whether you should tip mechanics, we discovered that it is not typical.
You might also reconsider skipping a tip in the following situations:
If the work was done incorrectly,
If the technician was impolite or unreliable,
If the professional takes an excessively long time to do the task,
How Long Does Windshield Replacement Work Take?
In general, replacing a car windshield takes no more than an hour. However, this estimate does not account for the time it takes for the technician to show there or the advised waiting period following new windshield installation for the windshield to cure before your car can be driven again.
The procedure for replacing a windshield involves:
By ensuring your vehicle is in a secure parking space and away from potential weather changes, such as rain or snow, you can reduce the installation time required. You should be prepared to relieve the tech of his responsibilities as soon as the job is over.
How Much Should You Tip a Windshield Installer?
There are no set guidelines for tipping employees; instead, it all depends on your generosity and financial situation.
However, as a gratuity for the employee's hard work and successful job completion, you are only permitted to tip up to 20% of the service's worth.
An average tip for windshield replacement is $15–$40, given that the entire cost is between $200–400.
Since tips are not the primary payment, you should not include them in the cost of the repair shop but rather pay the repairman separately. In other words, many employees still prefer cash when it comes to getting tips from clients.
Conclusion
Tipping is a discretionary matter in any service; doing so merely demonstrates generosity and respect for the workers you identify with. Therefore, it's acceptable if you choose not to tip the windshield installer. However, employees are not allowed to do so if they don't actively solicit consumer tips.
This is entirely dependent on your mindset, emotions, and financial capacity. Therefore, you are relieved of any guilt or considerations.
You can speak with management directly to resolve any issues if a windshield installer pressures you to provide a larger tip or makes a request.