This article may contain affiliate links. For details, visit our Affiliate Disclosure page. As an Amazon Associate I earn from qualifying purchases.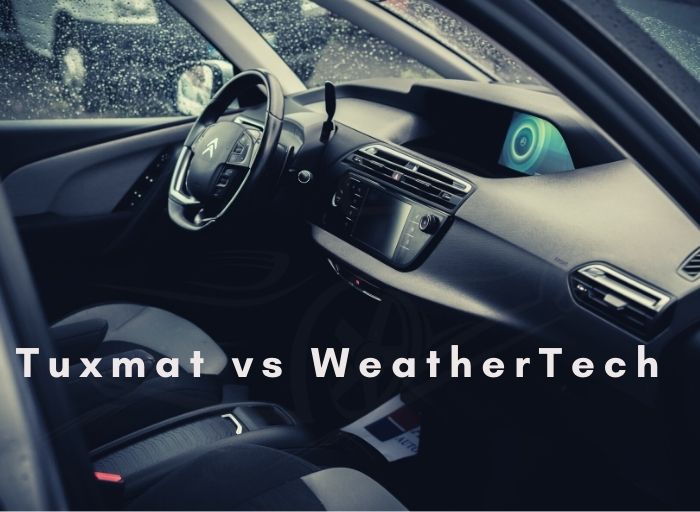 Tuxmat vs WeatherTech? If you own a car, you already know how valuable a car floor mat is and how many advantages it brings. This maintains the carpet clean at all times and prevents dirt from spreading. There are hundreds of floor mat companies on the market, the most well-known of which are WeatherTech and Tuxmat. These businesses have been providing clients with high-quality floor mats for a long time, and their popularity is increasing. As a result, which is better between Tuxmat and WeatherTech may arise.
Overview about Tuxmat
Tuxmat is a floor mat manufacturer based in Ontario, Canada. Its goal is to provide a premium floor mat with full coverage and a luxurious finish. Tuxmat, unlike other manufacturers, is surrounded by a lot of favorable comments and has a good reputation.
Their development method is one of the primary features distinguishing their floor mats. They begin by scanning your car's floor space with laser technology. The data is used to develop a prototype, then tested in the original vehicle. This is done to modify and tweak the final product to fit snugly and completely cover the foot space.
Their floor mats are made using innovative materials and technology, so they are excellent in serving both cars and their owners.
Overview about WeatherTech
WeatherTech was one of the first to provide sophisticated bespoke floor mats to the market. Initially, car owners had to put up with car manufacturers' low-quality floor mats.
When WeatherTech entered the scene, car owners were exposed to a whole new world of innovative car mats that provide maximum protection under the carpet while simple to clean. WeatherTech mats will protect the carpet from dirt, dust, mud, and undesired spills, whether you live in an area, that experiences terrible weather or not.
WeatherTech, like Tuxmat, uses a laser-beam fitting system to ensure that your car fits correctly. Nothing will be able to get past the protection provided by a flawless fit.
Tuxmat vs WeatherTech
Tuxmat and WeatherTech are both well-known firms providing excellent floor mats to clients for many years. However, it's a bit difficult to select between Tuxmat and WeatherTech in this case.
However, by comparing the features of these two manufacturers, you can determine which one best suits your needs.
# Overall Quality
These two brands have consistently provided high-quality products to their clients according to the quality.
Because this brand's items are built of high-quality materials, they will last a long time. In addition, the products are straightforward to install in your vehicle. As a result, you do not need to engage any more professionals.
WeatherTech has the advantage of being built from custom-blended TPO material. As a result, it is both water-resistant and long-lasting. Tuxmat, on the other hand, is water-resistant and can be personalized to match automobile interiors in a variety of colors. In addition, the ethylene-vinyl acetate in the middle layer functions as foam rubber and offers the mat an additional mattress.
# Materials
While these two floor liners are close in price, their materials and finishes are vastly different.
Weathertech uses High-Density Tri-Extruded plastic. These are made of a single layer and are incredibly stiff.
Tuxmats have a three-layer design, with the top layer being PVC, giving it a plastic-like feel. Ethylene-vinyl acetate (EVA) is the intermediate layer, a thin layer of foam that gives them some cushion. Cloth is the third and last layer, and its purpose is to prevent sliding.
Both are waterproof and will operate perfectly even if your roads are heavily salted in the winter. I don't believe any material method is necessarily superior to the other. However, if I had to choose one over the other in this category, I would select Tuxmats. The three-layer design will improve sound absorption, and they are much easier to wash (if you don't use the clips), in my experience.
# Price
Price is one of the most significant considerations, and these two mats are priced similarly. However, to make things easier, I've included them for a 2021 Hyundai Palisade (three rows), so you can quickly grasp the concept.
Tuxmats will set you back $279.50 for three rows (USD). If not sold at the time of purchase, this price makes them expensive enough. Three rows of Weathertech will set you back $ 259.85 (USD).
Optional extra cargo mats are available from both providers. These two liners are pretty close in price, but you can see that they are a little more expensive than all of your car's superior weather floor mats.
# Made in the USA
Weathertech has one benefit over Tuxmats: they are created in the United States. Tuxmats are created in Canada, and therefore if you try to buy American wherever possible, this will be a decisive factor.
Who Should Use Tuxmat and Weather Tech?
1. Tuxmat – For high-end automobiles.
Tuxmat is designed for luxury and personal vehicles. This is an excellent mat for a car owner who wants to extend the life of their carpet and make their car inside look wonderful.
Tuxmat will also mix in with your nice interior finish if you rent a luxury automobile. While the three-tiered mat design protects your carpet from falling off, riders will appreciate the added cushioning.
2. WeatherTech – This is a commercial product.
WeatherTech mats are designed for business use and those that drive in inclement weather. Matt from WeatherTech is built to take on a lot of responsibility and provide unrivaled functionality.
These mats are robust enough to keep mud, water, snow, and salt off your carpet if you drive a commercial vehicle or live in a location that receives extreme weather. And it's effortless to clean.
In Summary
Tuxmats provide better coverage and, in my opinion, superior aesthetics and improved sound absorption. These are an excellent alternative if you want something that will look good and give you that luxury sense while also ideal for cold conditions. However, Tuxmats are more expensive than Weathertech, so bear that in mind.
Weathertech is simple to install, and they'll most likely end up being more durable than ordinary all-weather floor mats. They're also less priced and created in the United States than Tuxmats. Weathertech mats, on the other hand, are less attractive and give less total coverage. And there's no clip mechanism to keep everything in place.